Valerie Jones

What I Love About the Constitution
What do I love about our nation's founding document? The First Amendment has been a guide star in my life. I didn't realize the extent until I started thinking about what I'd say here. 
I guess you could say I come by this honestly. In the late 1950's, my father was stationed at Fort Slocum, NY as an Army private studying journalism and photography at the Armed Forces Information School, now the Defense Information School at Fort Meade, MD. Following the Army, he worked in print and broadcast media before becoming a teacher.
Following in his footsteps, early on I was one of those students involved in media. But we (I, really) stretched the limits of my high school administration's patience. We "questioned authority" as our generation was urged to do, but we knew what we did was protected, especially when we respected "time, place and manner." 
As an undergrad in media studies and as president of one of the largest student organizations at a "Big 10" university, I knew we had strong First Amendment rights to gather, protest, and otherwise express ourselves. You could say we pushed the envelope more than a few times … and that it was always a learning experience. Thankfully, no bail was ever required. 
While on the faculty at a large state university, I taught media courses and started the student television station. Imagine eager, young news and sportscasters on the air live, with all the successes- and missteps! No FCC fines, but there were instances where now, time + tragedy = comedy. More than a few students have become well-known reporters and on-air talent for networks and in major markets.  
With my faculty colleagues, I advised student groups of varying political, social and belief systems. There were "teachable moments" for all of us as I became well-acquainted with the university's support of, and challenges with, the First Amendment. We crossed paths but rarely swords over student gatherings, media and religious freedoms. It was not without a few bumps but I'm glad to say our rights and those of others were respected and protected.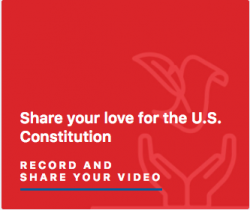 Now I produce television programs covering consumer, business and Constitutional law topics for The American Law Journal- some of them controversial. I am keenly attuned to and appreciative of freedom of the press and so grateful to the founders for their wise forethought.
It's not just at work, either- I would not have had the tools I'm using now to be civically involved in my community, lobbying for redistricting and challenging an eminent domain issue that is literally in my front yard. A few of us started a website with an archive of documents obtained by Freedom of Information Act requests; it's not been popular with local government but it's time to "shine the light" on a few things. The FOIA is great, to a point; we're learning it could use more teeth. 
Every day, this founding document and the rule of law affects my life- yours, too. What do you love about the Constitution?