HBO's John Oliver Revisits Gerrymandering
Apr 10, 2017
- by Valerie Jones, ALJ Senior Producer
HBO's "Last Week Tonight" with John Oliver revisits the practice of gerrymandering- the attempt to "stack the votes" by redistricting Congressional districts for one party over another. It's good to see popular culture (and actions in the courts) are keeping this issue alive in the media and on the radar screens of citizens.
Redistricting is not a partisan issue, which many think it is. At a OneVirgnia2021 event I attended, it was the most diverse crowd politically (GOP, Dems, Libertarians, Tea Party, etc.)  that actually agreed, were cordial and working together on the issue. Quite refreshing!
Here's John- enjoy.  
"Broken politics can be pretty rough ... but that move (redistricting) was gangsta" says Rep. Hakeem Jeffries, (D) New York. Oliver continues in his usual droll commentary "Remember, the threshold for gangsta in Brooklyn is the Notorious B.I.G." 
All kidding aside, redistricting inequity continues to play out in the courts, including two before the Supreme Court this term. The impact to "one person, one vote" most impacts minorities. To list all cases in or appealed to courts across the country would be an extensive list. A basic search for them as news items turned up 29,400 results in .6 seconds with the latest results in this and last month. See the image below. 
We covered this issue last fall, just prior to the elections with a blue-chip panel of experts on the issue. ICYMI, view here including our nod to popular culture including comedian Zach Galifianakis: 
A special note of thanks to the good people at OneVirginia2021 for their excellent documentary "Gerryrigged!" which was excerpted both in our programming and John Oliver's segment. I've attended programming and ALJ's Jennifer Conway participated in the lobbying of the Virginia House of Representatives.
Graphic mentioned above: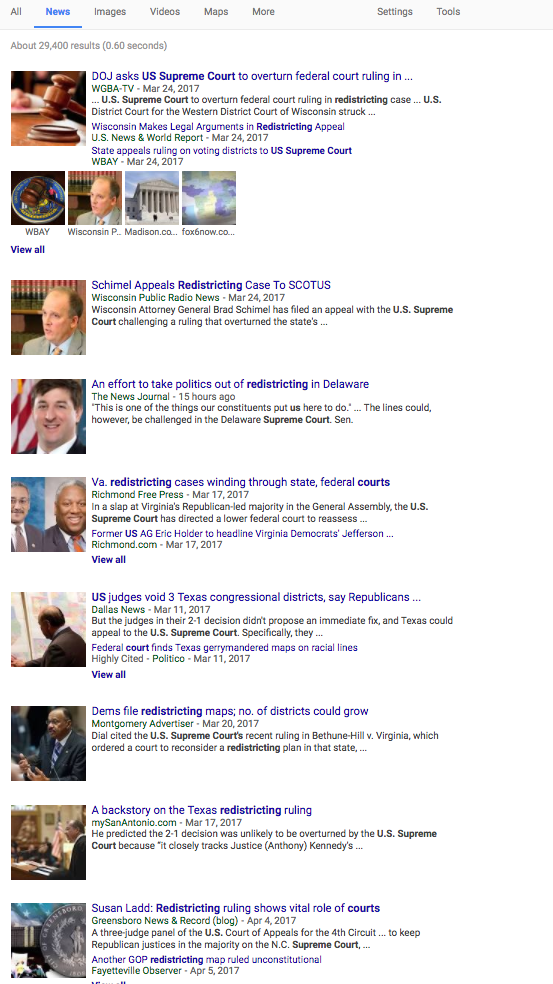 Category: In The News
Please add a comment
You must be logged in to leave a reply.
Login »