Judge dismisses complaint in Taylor Swift copyright matter.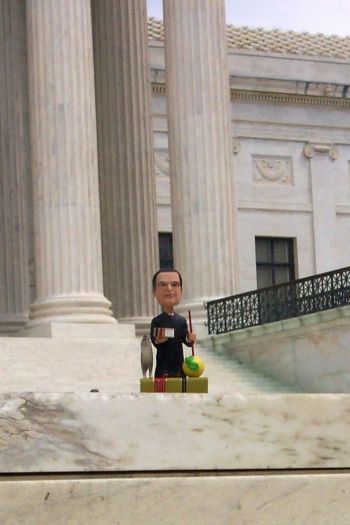 One of the many benefits of performing deep, intense legal research is ... legally related bobbleheads and other premiums from The Green Bag, An Entertaining Journal on Law.
While reading the many long, dry tomes and journals we dive into for our Very Serious Research we found "The Bag."
Now subscribers for more than a decade, we have come to enjoy not only the wisdom and wit of this periodical ... but also the associated swag.
One of the most wanted- and hard to get- are the Green Bag Bobbleheads. Note our very own Scalia sitting on the Supreme Court steps, which during a very serious photo op gave us the opportunity to have a chat with the police. Apparently they frown on such things.
We've also enjoyed, as "Extravagant" level subscribers, the annual Almanac & Reader, "Thought Bubblegum" along with Supreme Court Sluggers baseball cards (see the magnificent four in the photo) and more. The Bobbleheads come with thoughtful annotations of their accoutrements that refer to opinions and backgrounds.
Check out "The Bag's" website, www.greenbag.org for their scholarship and many offerings.
The Green Bag YouTube channel shows Bobbleheads on the town and features a Ken Burns-like video accompanying audio of Learned Hand singing.
Practitioners of law and others who let their heads spend time there, we recommend "The Bag" as a brainy but fun diversion.
Where else would you read in-depth articles on:
Doctrines of Many Things

Do Not Cite or Circulate

The Origins of a Benchslap

The Jurisprudence or Paper Clips

Assorted legal poetry

and for those of us fond of New England, Law on Nantucket.
"The Bag" is edited by George Mason University Antonin Scalia Law School Professor Ross E. Davies with the support of many editors and authors. The Washington D.C. firm O'Melveny & Myers provides support.
Basic subscriptions start at $55 for one year.