ALJ Brings Home Two 2017 Emmy® Awards: Five Total for 2015-2017
Sep 10, 2017
The American Law Journal television program brought home two 2017 Emmy® awards for broadcasting excellence as Best Interview/Discussion Series overall and Best Politics/Government Program/Special for a program on gerrymandering.  These honors are the fourth and fifth awards for ALJ in the Mid-Atlantic region of the National Academy of Art & Sciences since 2015 comprising multiple U.S. media markets including the 4th and 23rd.
"We're particularly honored to be recognized with such esteemed news and public affairs organizations" says Senior Producer Valerie Jones. "Our categories included Philadelphia NBC10's live DNC coverage, Telemundo's Fidel Castro special and WQED-PBS Pittsburgh original programming."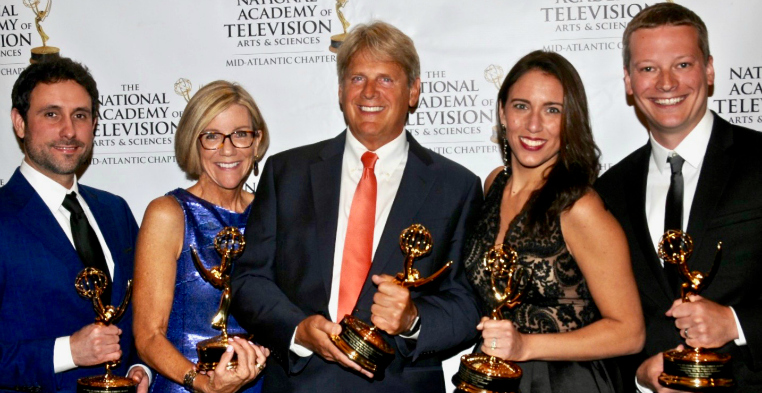 Receiving Emmy® statuettes are (L ro R)  Director of Production Andrew Schaeffer, Senior Producer Valerie Jones, Host and Executive Producer Christopher Naughton, Feature Reporter Gina Passarella and Director Joel Keeler.
Passarella, also Executive Editor for American Lawyer Media's The American Lawyer magazine, has served as ALJ feature reporter for more than ten years.
The five nominations for this year included programs on employment in the 'gig' economy and equal pay for women. Naughton was also nominated for excellence in broadcast performance as Host/Moderator.
Click upper left for complete playlist of award-winning and nominated programs.
The National Academy of Television Arts & Sciences Mid-Atlantic Chapter is comprised of 45 stations with 17 network affiliates and five PBS stations and includes the nation's 4th and 23rd largest television markets, including programming that crosses over to New York via New Jersey stations. There were 300 nominations from 1,200 entries in 80 categories. 
The program producers thank additional team members Associate Producer Jennifer Conway and Director of Business & Sponsorships & Find-Lawyer.com Maura Kennedy.
View the award-winning and nominated programming: ALJ Emmy® Awards & Nominations. With this year's honors, the program now has five Emmy® awards and fourteen nominations in 2015, 2016 and 2017.
The program's 28th season begins in November covering a wide range of topics including Net Neutrality, new marijuana laws, Fourth Amendment issues addressing 'stop and frisk' and police bodycams, the First Amendment and protecting journalists,  forced arbitration and environmental litigation.
Click these links for the NATAS MidAtlantic Emmy® 2017 Nominations and Awards.
The awards gala ceremony was held September 9. 
Category:
Please add a comment
You must be logged in to leave a reply.
Login »