"This is What Democracy Looks Like"
Jun 08, 2017
- by Valerie Jones, Senior Producer
In a polarized political climate, can we exercise our rights to free speech and assembly without fear of reprisal and violence?
My personal experience gives me hope, however reports from a bucolic city in the Blue Ridge Mountains gives me pause.
First, the pause: Charlottesville, Virginia is home to the University of Virginia, the "academical college" founded and lovingly nurtured by Thomas Jefferson. Frequently referred to as a "public ivy" school in a charming city (mostly) open to diverse viewpoints, marches and protests regarding a statue of Robert E. Lee in a public park has the community on edge. 
United News International (:53)
 CNN (1:02)
 ABC 2 News - WMAR (:26)
CNN Today Network, the Staunton News Leader update:
Charlottesville on edge once again as Ku Klux Klan wants to rally
"City officials said the Loyal White Knights of the Ku Klux Klan (KKK*) had applied to hold a rally near the statue on July 8."
A city spokeswoman said the permit would likely be approved.
"People have a constitutional right to assemble," said director of communications Miriam Dickler.
"When the Nazis Come Marching In"
When the First Amendment and what many consider abhorrent views are being expressed, how does a community respond?
"Maybe it was time for me and the First Amendment to see other people" says legal columnist and scholar Dahlia Lithwick. 
In the Slate magazine cover story When the Nazis Come Marching In, Lithwick says "my little city in central Virginia has become the stuff of reality TV."  
"The local police, who didn't see the Lee Park thing coming, are dialed up to 11. And with threats, incitement, and actual assaults perpetrated both by alt-right sympathizers and the protesters who oppose them, their job is no longer to stand back but to surge in almost as soon as the shouting begins.

"Now, when we come to meet in our town square, we are uncertain of whether we are suiting up for events that fete the Constitution or violent altercations for which we should park with an eye to high-speed retreats. Lee Park itself, where my babies learned to walk, has become ground zero for people expecting the worst."
Lithwick continues:
"Consider the choices available to the mayor of Portland, Oregon, after two men, Taliesin Myrddin Namkai-Meche and Ricky John Best, were stabbed to death as they tried to stop a white supremacist from harassing two young women on the light rail. Portland is in a state with robust constitutional speech protections. It has also suffered a long and frightening string of racial incidents in recent months. The white supremacist who killed two men in May had attended "free speech" rallies."
As reported by Lithwick, the Portland Mayor, Ted Wheeler, stated:
"They have a First Amendment right to speak, but my pushback on that is that hate speech is not protected by the First Amendment to the United States Constitution."
Unfortunately, he is wrong as a matter of fact and of First Amendment doctrine because if Nazis get to march in Skokie, Illinois, racists can march in Portland, says Lithwick. The ACLU of Oregon quickly reminded him of this on Twitter, pointing out that "The government cannot revoke or deny a permit based on the viewpoint of the demonstrators. Period."
This is the world we now live in: protests, marches, beatings, deaths, hate speech, Nazis, alt-right, alt-left, self-proclaimed "truth-sayers," hawks, doves, threats to journalists ...
Civics. Civility. What happened?*
The right of (and cost to) the people to peaceably assemble: A sharp contrast 
This is the part about hope.
On a way smaller and less contentious scale, I experienced what had originally sparked fear and what I call "ramping up" prior to a protest march in my hometown of Virginia Beach. 
Former NFL Hall of Famer Bruce Smith and a group of international ministers led the way for the Faith, Freedom and Justice March held in late February of this year. Allegations of cronyism and discriminatory disparities in the city's awarding of contracts to minority and women-owned businesses were at issue.
The city was- and more than a few citizens were- uneasy. When had a major street, especially at the oceanfront tourist "zone," been shut down for a protest? Never. Who would come? Would it be, some wrung their hands, a "Black Lives Matter" protest? You'd have to know the history of one, particular racially-charged event in the 1980's to understand a little of their fear. Some conversations did significantly "ramp up" anxiety: how could the city manage this?
Here's one way they handled it. In 2014, the city began imposing a price to provide "city resources" for "major events." The cost of free speech in Virginia Beach was proof of liability insurance, a $250 application fee and $5,470 for 40 police officers. Originally adding up to $8,470, the city waived $3,000. Thankfully, the officers on duty were low-key, welcoming, and conversational. 
The Virginian Pilot, pardon the ad pre-roll (1:44)
Good thing the sponsoring groups could afford their constitutionally-protected right.
As it turned out, there were no white nationalists, no counter-protests, nor did I hear one word of hate speech. At the heart of the march of several hundred people was conversation and a greater understanding about the prevalence of and experience with race and gender discrimination. Forty blocks- more than three miles- is a long way to walk, chant, and get to know each other, even if it wasn't a total "kumbayah" moment. But what it was, according to a local icon: 
"I would say it is a historic moment," said Georgia Allen, past president of the Virginia Beach chapter of the National Association for the Advancement of Colored People in The Virginian Pilot. "I have never seen a march like this."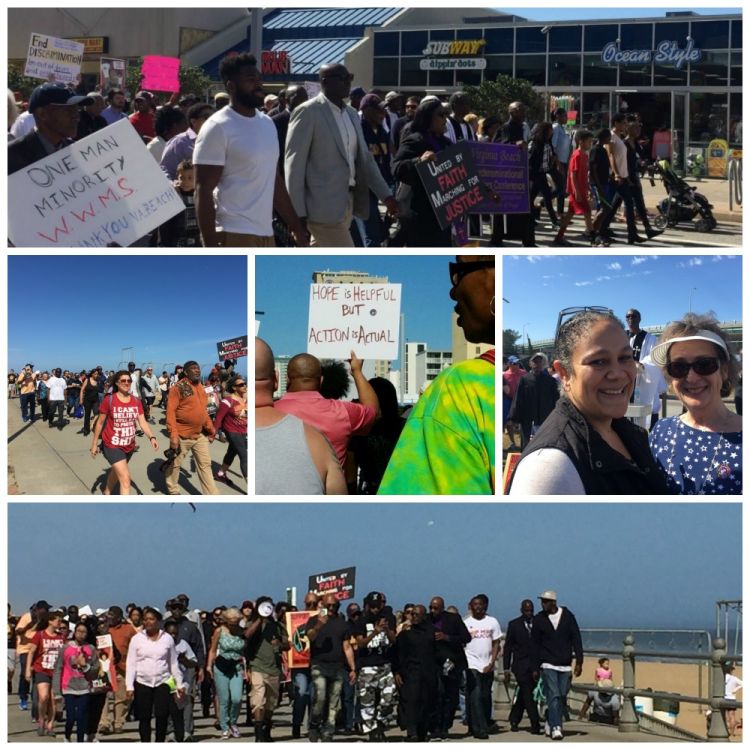 Time will tell if what is now remembered as a peaceable march has any effect on city bid-granting to minorities and women. The victory that day, in my eyes, was the chance for people to talk to those different from themselves and appreciate coming together. I will remember the many conversations and chants of "this is what democracy looks like!" and "no hate, no fear, everyone is welcome here" echoing among the tall hotels and back along the boardwalk to 24th St. Park for a rally. Curious- and generally supportive- tourists came out to watch. Their children, wide-eyed and probably never having seen a march before, got a clear view of participatory democracy that day. 
Stay tuned for the conversations
Charlottesville citizens will likely experience more trepidation and fear with the encore in July of the white nationalist/supremacist march. I think I'll head up to Mr. Jefferson's mountain to join my son, a third-year student at UVA and see what conversations develop- or not. Will it be like the KKK rally and counter-protest during my college years at Indiana U.? Or the war protest "lock in" at Virginia Tech's Williams Hall?
Dahlia Lithwick- after an important passage about the free speech, the press, and those who claim their views are not presented fairly in the media*- concludes:
"What I saw ... reaffirmed my conviction that conversation might still be our best chance of getting out of this mess."

"Free speech is just free speech."

"It takes actual humans making the effort to talk to each other to transform speech into something more vital and more valuable. Conversations don't always work. They may sometimes go wrong—horribly, terribly wrong. But I know someone who left that park with the phone number of someone from the "opposing" side. I saw people who showed up nervous, but showed up anyhow. The First Amendment will never be able to protect us from horrible words and horrific acts. It does guarantee that we'll keep talking."
Watch for "This is What Democracy Looks Like, Part 2" in July.
* Future posts
Related
See also our response to criticism of one of our panels including a guest from an organization the Southern Law Poverty Center considers a "hate group." 
Category:
Please add a comment
Posted by
Valerie
on
Jun 9th, 2017
If anyone has a video from the Charlottesville protests, please send to info@lawjournaltv.com. If we use it, you will be credited for the submission.
You must be logged in to leave a reply.
Login »