Maura joins The American Law Journal team as the Director of Business and Sponsorships at a time when the role of journalism is vital for the continuation and success of our democracy. Maura is passionate about forging stronger relationships between Americans, legal professionals, and the media, which is what motivated her to work for The American Law Journal. The Emmy award-winning program inspires Americans to engage in compelling conversations about our laws, the rights of the people, and our Constitution. What better city than Philadelphia - the birthplace of our nation - for Maura to further The American Law Journal's mission towards civic impact.
Maura is excited to work with legal and media professionals in Pennsylvania, Delaware, New York, and in her native state of New Jersey. As Director of Business and Sponsorships, Maura is meeting with legal professionals in the Mid-Atlantic area to help further Constitutional conversations through the company's booming multimedia platforms: The American Law Journal television program and Find-Lawyer.com: the nation's only video-centric legal directory. Maura thrives on her work with sponsorships, branding and content marketing, video production, B2B relationships and community outreach.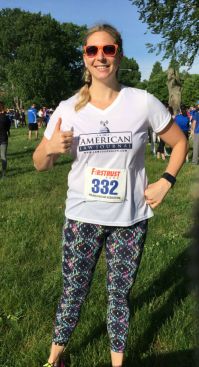 Maura says, "one of my favorite quotes is ' They may forget what you said, but they will never forget how you made them feel.' It describes the reason why I fought so hard to be a part of this team. The American Law Journal is a television program with lawyers and experts on both sides of the debate, and by the end of the program, you will feel intensely empowered and emboldened to create the change you want in society. Now more than ever, we need The American Law Journal and Find-Lawyer.com. I am proud that I can say that the work I do every day with The American Law Journal makes me feel that fire and passion."
Maura comes to The American Law Journal after six years of working as a reporter and anchor for CBS, ABC, and FOX news. As a journalist, Maura covered breaking news, investigative and human feature stories, politics, crime, and also reported live in the field. One of Maura's exclusive reports on the three Georgia girls who had their lemonade stand shut down by local police went viral. The report aired on global networks like CNN, and the famous "Midway Lemonade Girls" appeared on national programs like ABC's The Chew and FOX News Fox & Friends. Other highlights from Maura's TV news career include her coverage of President Obama's presidential campaign tour, her interviews with Senator John McCain and Secretary Madeleine Albright, in-field coverage of the Boston Marathon Bombing, and reporting from the U.S. Courts on the James "Whitey" Bulger trial. Maura even appears on the Conan O'Brien show: the segment showed her on the anchor's desk reporting on social media apps for dogs!